13 Days Historic Route incl. Epiphany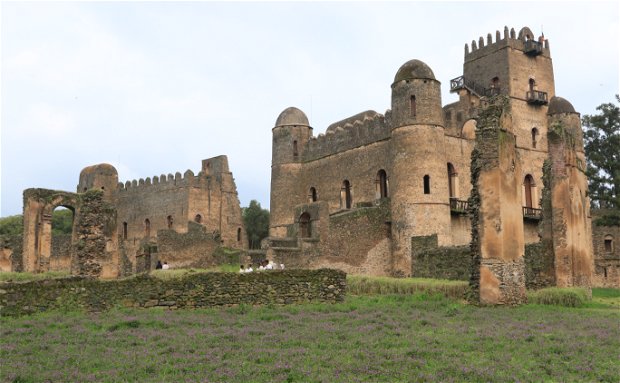 Timkat ( the main highlight of this tour) is a three-day affair and all the ceremonies are conducted with great pomp, occurs on the18th, 19th and 20th of January observed in commemoration of Jesus Christ's Baptism in River Jordan. The celebration is accompanied by a special and overwhelming sacred dances by the clergy with their prayer sticks and sistera, the beating of drums, ringing of bells, and blowing of trumpets. The singing and Sacred dancing of priests and laity with their colourful dress will make you to feel as it is in paradise.
Addationally, the best known historic sites-Axum, Lalibela, Gonder and Bahir Dar make up the historic routes which are the extra highlights of this Itinerary.
The Itinerary can easily be adjusted to meet the needs of our clients' schedules, budget, and special interests. However, time should be scheduled to be in Lalibela at least January 18 and 19 for Timket celebration.
Gallery
Itinerary
Arrival and Addis Ababa and city tour
Overnight: Addis
Drive from Addis to Desse, en route - if the day is Monday visit the beautiful market in Batie where the Afar, Oromo and Amhara tribes meet. If the day is Sunday visit the very entertaining and colorful Senbete market
Overnight: Desse
Drive from Desse to Lalibela en route stop for many beautiful scenery and visit St. Neakutolaab monastery before arriving in Lalibela 
In the afternoon upon your arrival attend the eve of colorful Timiket (Ephiphany) festival in Lalibela 
Overnight: Lalibela
Night and morning Attend the Timket (Ethiopian Epiphany) Festival in Lalibela 
After noon Visit part of the impressive rock-hewn churches of Lalibela (first Group) and 
Overnight: Lalibela
Morning free and attend the Cana celebration which is as colorful as Timket and after noon Visit the rest of magnificent Rock Hewn Churches of Lalibela and coffee ceremony 
Overnight: Lalibela
Drive from Lalibela to Mekele, en route with many stops for the beautiful scenery and village visit 
Overnight: Mekele
Drive from Mekele to Gherhtha and en route visit AbrahaWoAtsebeha church and relax around the lodge in Gherhaltha 
Overnight: Gherhaltha 
Morning free and drive to Axum via Adwa and after noon Visit the historical and archaeological sites in Axum
Overnight: Axum 
Drive from Axum to Gondar crossing the Tekeze river and passing by the spectacular simien Mountains national park. 
Overnight: Gondar
Visit the Fasiledes castle and Selassie church and drive to Bahir Dar
Overnight: Bahir Dar 
Boat trip at Lake Tana and visit of Blue Nile falls  
Overnight: Bahir Dar
Drive from Bahir Dar to Addis Abeba passing the spectacular Blue Nile Gorge 
Overnight: Addis
Resting at the hotel, shopping, farewell and departure