Ethiopia Biking Tour, Two Wheel Explorer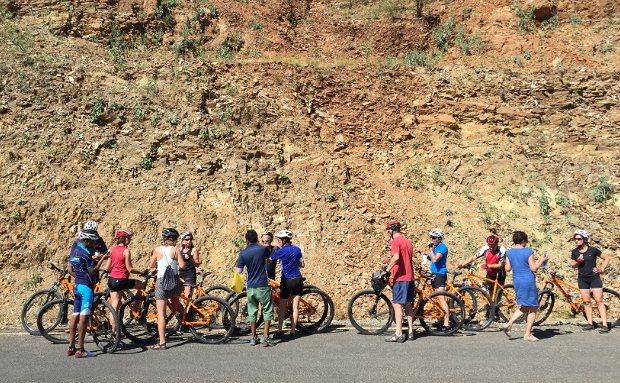 The highlights of this exciting Mountain Biking Tour are Spectacular countryside scenery across the mountain ranges and the beautiful gorges attached. Wildlife; including the endemic Glada baboon, magical rock-hewn churches, ride through the most charming peoples and interact and experience the unique culture of the Amhara and Tigray tribes.
The best historic and cultural sites such as BahirDar (Monasteries of Lake Tana and the Blue Nile falls), the castles of Gondar, The dramatic Simien Mountain National park, Axum,The towering sand stone outcrops of the Gheralta Escarpmentsand discovering the magical rock-hewn churches of Lalibela and the remarkable built up cave church of yimrhane Christos one of the hidden treasures of Ethiopia are well discovered throughout this Biking expedition.
Itinerary
Day 1
Arrival in Addis Abeba and fly Addis- Bahirdar\
Overnight: Bahir Dar
Day 2
Bike from Bahirdar to the Blue Nilefalls
Overnight: Bahir Dar
Day 3
Bike from Bahirdar to Zegie Peninsula, boating over the lake and drive to Gonder
Overnight: Gondar
Day 4
Gondar City Tour and Bike to Kosoye
Overnight: Kosoye
Day 5
Bike from Kosoye to Debark and Semien Mountain national park 
Over night: Simien Mountain or Debark
Day 6
Hike and discover more of the Semien Mountain national park
Overnight: Simien Mountain or Debark
Day 7
Drive and Bike from Semien to Axumvia Limalimo and crossing Tekeze River  
Overnight: Axum
Day 8
Drive from Axum to Gherhaltha through Adawa Mountains
Overnight: Gheralta
Day 9
Biking around Gheraltha to discover the Unique rock cut churches 
Overnight: Gheralta
Day 10
Bike fromGheralta to Mekele via AbiAdi and drive the last part 
Overnight: Mekele
Day 11
Drive and Bike fromMekelle to Woldia en-route take part in cultural events
Overnight: Woldya
Day 12
Bike andDrive from Woldia to LalibelaviaGashena and Dilb with Scenic ride 
Overnight: Lalibela
Day 13
Full day Sightseeing in Lalibela and authentic cultural activities in the late afternoon  
Overnight: Lalibela
Day 14
BikeLalibela-Yimrhane Christos-lalibela
Overnight: Lalibela
Day 15
Fly back to Addis, shopping, a day room, farewell dinner and departure