Ethiopia Biking Tour, Two Wheel Explorer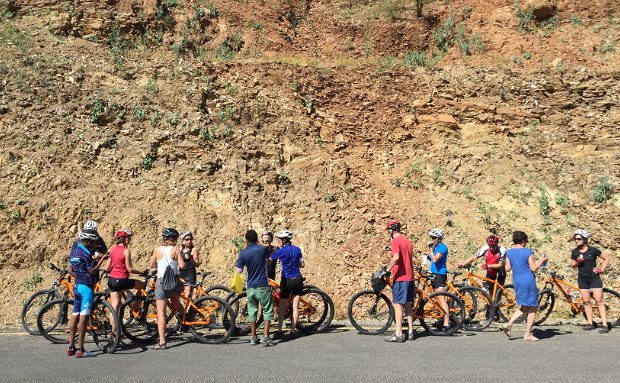 The highlights of this exciting Mountain Biking Tour are Spectacular countryside scenery across the mountain ranges and the beautiful gorges attached. Wildlife; including the endemic Glada baboon, magical rock-hewn churches, ride through the most charming peoples and interact and experience the unique culture of the Amhara and Tigray tribes.
The best historic and cultural sites such as BahirDar (Monasteries of Lake Tana and the Blue Nile falls), the castles of Gondar, The dramatic Simien Mountain National park, the Guna chains of mountains, discovering the magical rock-hewn churches of Lalibela and the remarkable built up cave church of yimrhane Christos one of the hidden treasures of Ethiopia are well discovered throughout this Biking expedition.
Itinerary
Day 1
Arrival in Addis Abeba and fly Addis- Bahirdar\
Overnight: Bahir Dar
Day 2
Bike from Bahirdar to the Blue Nilefalls
Overnight: Bahir Dar
Day 3
Bike from Bahirdar to Zegie Peninsula, boating over the lake and drive to Gonder
Overnight: Gondar
Day 4
Gondar City Tour and Bike to Kosoye
Overnight: Kosoye
Day 5
Bike from Kosoye to Debark and Semien Mountain national park 
Over night: Simien Mountain or Debark
Day 6
Hike and discover more of the Semien Mountain national park
Overnight: Simien Mountain or Debark
Day 7
Morning drive to Awramba Village and after lunch Bike to Debre Tabor for an overnight stay.  
Overnight: Debre Tabor
Day 8
Drive to Sally for if Saturday for the Market if not unload the Bikes and start the beautiful and adventurous ride. stop to visit the hilltop Monastery of Zuraaba Tserha Aryam. After a visit and Picnic lunch in Bethlehem, the ancient university of Degua, make a Scenic drive to Lalibela. 
Overnight: Lalibela
Day 9
Bike to Genete Maryam one of the beautiful rock hewn church in the area found at 35 kms from Lalibela.  Ride or drive back to lalibela. 
Overnight: Lalibela 
Day 10
Morning trek to Hudad Lodge and stay overnight.
Overnight: Hudad Lodge
Day 11
Bike and Trek to Abune Yoseph and overnight in a community Lodge. 
Overnight: Community Lodge
Day 12
Discover arround Abune Yoseph by Bike and Bike  back to  Lalibela via Muja or Degosach  with Scenic ride . The ride through degosach is a series downhil.
Overnight: Lalibela
Day 13
Full day Sightseeing in Lalibela and authentic cultural activities in the late afternoon  
Overnight: Lalibela
Day 14
BikeLalibela-Yimrhane Christos-lalibela
Overnight: Lalibela
Day 15
Fly back to Addis, shopping, a day room, farewell dinner and departure