Dynasty Special Lalibela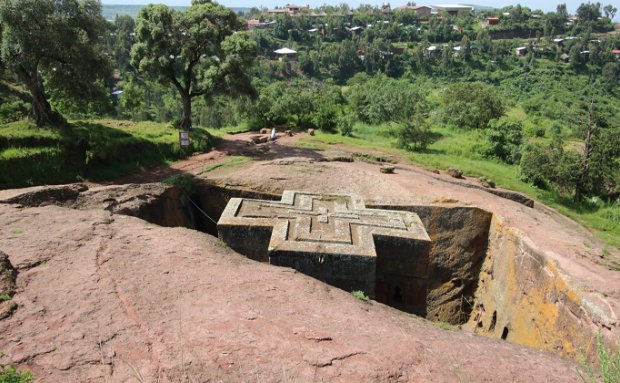 The main highlight of this tour is to provide for our visitors a deep understanding of the culture and history of the Lalibelan community and the general Ethiopian way of life. The ever best scenery around Lalibela is extra tip with a discovery of mount Abune Yoseph, the third highest peak in Ethiopia and a home to the rare Ethiopian wolf and the Glada baboons! Taking this tour, visitors will discover the 11 ancient rock hewn churches of Lalibela curved underground from one piece of volcanic tuff. The Lalibela rock hewn churches, regarded as a high place of Ethiopian Christianity are inscribed by UNESCO in 1978 and are cited by many as the eighth wonder of the world.
Gallery
Itinerary
Be welcomed by your guide or representative from Dynasty Ethiopia tours on arrival at Addis Abeba Bole international Airport, and transfer in to your hotel. Beginning of the tour in Addis Ababa, Morning free (may be exchange money, when necessary briefing of the itinerary and be ready for the tour). Afternoon, tour of the capital: visit Entoto Mountains with spectacular views over the capital and the National museum. Overnight chosen hotel
Full day Lalibela (tour of the churches) Before night is a coffee ceremony event, at the local coffee house. Ethiopians – fervent coffee drinks –maintain an age –old "coffee ceremony '' tradition .The host , sitting on a stool next to a small charcoal stove , lights fragrant incense and starts roasting the washed beans. The roasted beans are grinded with a pestle, and then boiled in water. Next, the coffee is transferred to a clay pot and served, often with popcorn. Invitations to a coffee ceremony are coveted signs of friendship and respect. Usually one coffee lady (the host) is making the whole process dressed beautifully with the nice hospitable environment!
O/N in a hotel
Morning Drive to Neakutolaab and the rest of churches in town
After noon, excursion to Lalibela hudad eco lodge. According to your fitness and
preference you can ride a mule or walk. With no more than three hours trekking
you will ascend to the hill for more than 600 meters high and while at hudad its
3000 meters high. At the top the view is amazing and limitless. At night sitting
around the bone fire with the locals dancing for you is a great experience. The
star in the night creates a lovely combination with the Lalibela town lights down
in the gorge. You will see the baboons and birds singing for morning sunshine and
wake you up to enjoy with them. One of our clients calls this place a 'non
discovered heaven in the clouds'.
O/N Hudad Eco-lodge
Day 4
Add M/Alem to Lalibela
In the morning, ride your mule or walk to Add M/Alem for community lunch and a
more stunning view. After noon: Back to Lalibela. En route visit Asheton Maryam Monastery
O/N in a hotel
Morning, drive to St. yimrhane chirstos (42 Kilo meters) and visit the 11th century built up cave church of Yimrhane, one of the hidden treasure of Ethiopian and is described by many as the bridge between Axumite and lalibela civilization.
Visit Gedamawit Maryam monastery and the Arbaetu Ensisa rock hewn church where St. lalibela is believed to be Christened/baptized when he was 40 days old. After picnic lunch proceed to the two oldest rock hewn churches of Bilbala Giorgies and Bilbala Kirkos. Drive back to Lalibela; watch the sunset and dinner at one of the world's most spectacular restaurant, the Ben Abeba restaurant O/N in a hotel
Day 6
Farm Visit and Cooking Class
Morning, visit the local farm where you see a local farm family in action as they go about their daily lives. After noon, you will take the training how to cook traditional Ethiopian food like Injera and Wat in an authentic laliibela kitchen.
Night Torpido Tej (honey wine) house with authentic test and traditional music. Lalibelas honey is very popular in Ethiopia. Take a chance to test it also with your breakfast. O/N in a hotel
If time permits, city tour in Addis Abeba and shopping at Merkato. Evening will be traditional dinner with folkloristic dances as a Farwell night party. Evening or next day will be departure. For those who still have time we suggest other tours.