Ankober & Awash's Hot Springs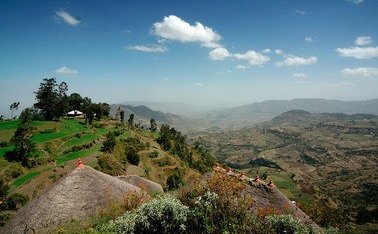 See Menelik's historical palace on the edge of the Rift Valley escarpment, with the expansive Wof Washa forest along its slopes. Drive into the Rift Valley to relax at the hot spring oasis, and see some of Awash Park's wildlife and waterfalls.
Itinerary
Day 1
We will pick you up from your hotel and drive the 130 km to Debre Birhan (where we can have an early lunch) before driving 50km to Ankober Palace Lodge. After checking in, enjoy some lovely walking in the area and visit some of the historical sites. Overnight at Ankober Palace Lodge.
Day 2
Drive down the Rift Valley escarpment through the historical town of Aliyu Amba and on down into Afar lowlands. Head into the Awash national park to the hot spring oasis: a natural spring lake surrounded by palm trees, hot spring water bubbling out into a series of pools including an eye line pool. Enjoy an afternoon relaxing and swimming at the lodge.
Day 3
After an early breakfast drive into the southern part of Awash national park to see the falls and wildlife there before driving to Adama for lunch. Then take the expressway back to Addis Ababa.
Rates