Bale Mountains & Lake Langano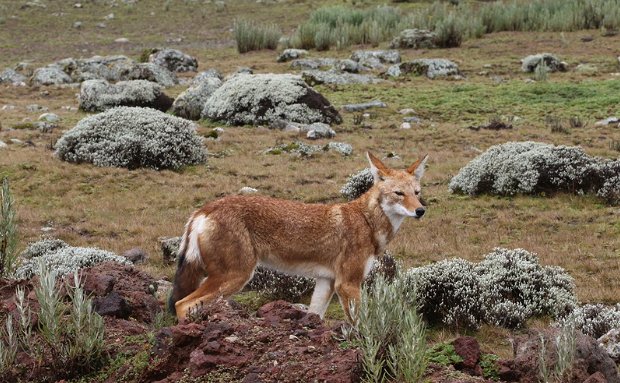 Spend 4 days exploring the Bale Mountains, with its plateaus, peaks & wolves, along with the mystical Harena forest. Stop in the Rift Valley at Lake Langano where you can swim and explore the nearby Abjatta Shalla National Park with it's important birdlife.
Itinerary
Day 1
Fly to Bale (Wed/Fri/Sun), with arrival 13:40. We will pick you up at the airport in Robe, and take you up on to the Sanetti Plateau, with a good chance to see the Ethiopian wolf. We will drive down through giant Erica woodland to the site of the Bale Mountain Lodge. As the lodge is closed, we will camp in this very beautiful location. Depending on the time we arrive we will get some chance to walk through the woodland in search of birds and the endemic Bale monkey. Overnight in tents.
Day 2
Next morning we will rise early and explore the Harena forest. We will then head back up to the Sanetti Plateau to see the peak at Tullu Dimtu (4,377m) and search for the Ethiopian Wolf, the rarest canid. At the end of the day, we will drive out of the park to the town of Goba. Here we'll stay in the Wabe Shebele Hotel. This old hotel still has some charm.
Day 3
Next morning we will set off early and visit the park headquarters around Dinsho and see the unique wildlife including the mountain Nyala & Menelik's bushbuck. We will then drive out of the mountains to Lake Langano where we will stay at Sabena Lodge or optionally at Harar Langano (this is the best lodge to see monkeys, birds and hippos). Spend the afternoon relaxing by the lake or take a tour. Overnight at the lodge.
Day 4
After breakfast, visit the neighbouring Rift Valley Lakes in Abjatta Shalla National Park seeing hot springs and a variety of birds. If lucky we will see flocks of flamingos. On the way back to Addis Ababa, stop for lunch in Ziway before joining the newly constructed expressway
Rates