Community Trek in Wof Washa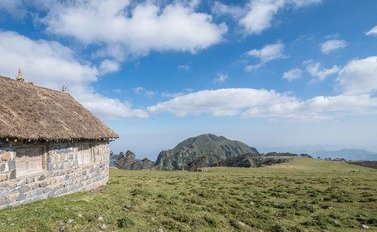 Two nights trekking in Wof Washa forest, staying in community run guesthouses. Set on the slopes of the Rift Valley north of Addis Ababa, this forest is home to Gelada baboons & Colobus monkeys among many other mammals and birds of any kind.
Itinerary
Day 1
 We will pick you up from your hotel and drive the 130 km to Debre Birhan (where we can have an early lunch), then drive on to Tamkay from where you will begin the 2 hours trek down to Lik Marefya community guesthouse, overnight there.
Day 2
 Trek into the forest over a pass and down towards Mescha village. The forested slopes are to your left, the fertile agricultural land to your right. Eat a picnic lunch along the way. It's a long day's walk but very scenic. Lovely to arrive at Mescha on the edge of the Juniper forest, at the end of the afternoon.
Day 3
Trek up through the forest, note the changing vegetation as the altitude increases. It's a pretty trail but quite steep that leads up to the Gosh Meda Guesthouse which you will pass on your way to Debele, the pick up point on the road. The last 5km is more on the flat with Heather and Eucalyptus woodland. Stop for a late lunch in Debre Birhan before returning to Addis Ababa.
Rates